Zion National Park (September 16-17, 2006)


My parents and my friends' parents came to visit in September. After our place, they
headed to Zion, one of our favorite National Parks. We decided to meet them
there the next weekend and go see the sights with them.



Our campsite in the park.

Views of the Canyon walls from our campground.

Some sunflowers near the vistor's center.

In town they have a game park with elk.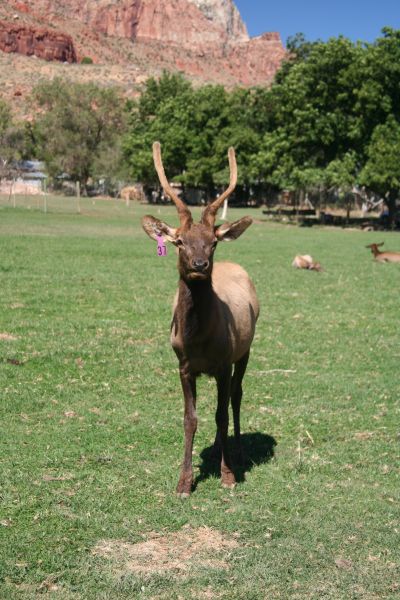 Chris and I got there before my parents and company, so we went to scout places for sunset
pictures.

We saw a mommy deer and two or three babies. This is one of the babies.

The Weeping Rock made it look like it was raining, even though the sky was blue!

We stopped at the stream running away from the Weeping Rock for some pictures.


Sunset with the river:

The crew getting ready to hike in the river.
Back: Doug, Jan, Gordy, Dad and Mom
Front: Jamie, Dave and Linda

The canyon walls.

The trail to the river.

Chris and I just starting getting our feet wet.

Chris taking a picture upstream. The water was really a pretty blue right there.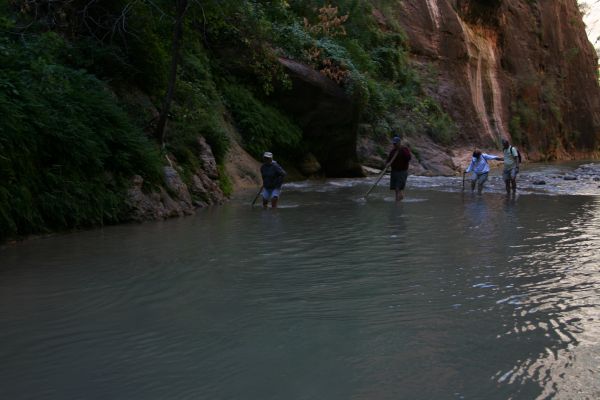 The parents making their way upriver.

Chris keeping close to the edge where it's more shallow.

Doug getting in deep, leading the rest of the crew.

The canyon walls towering above. You can see people very small at the bottom of the
picture near the river for scale!

Mom taking a picture up the canyon. This is as far as we went before turning back.

We stopped for lunch in the sun to dry out a little.

On the way home, Chris and I saw beautiful colors at sunset and decided to take a picture
of the mountain silhouettes. I soon realized the lights from the cars passing made pretty
interesting images!

Mountain skyline with a planet above and city lights below