Havasu Falls (November 17-19, 2006)


Cam organized this trip to Havasu Falls. Chris and I had been wanting to go for a long
time. This ended up being a good time of year to go because there weren't a lot of people
to get in our pictures. Plus, we even caught some fall colors!



This is near the start of the trail looking into the canyon. The water from Havasu Falls
flows into the Colorado River in the Grand Canyon.

Steve, Cam and Chris.

If you look closely, you can see the pack mules caravaning down the switchbacks in the trail.

Closer. They went pretty fast.

Toward where we're headed.

Down in the wash.

Chris hiking down. "Steamy" from the dust.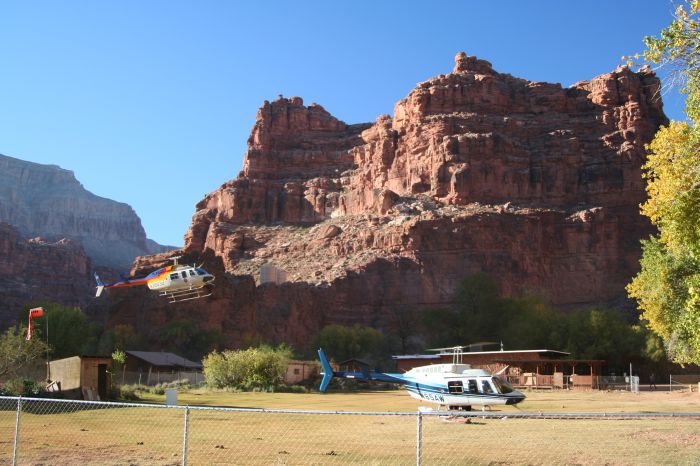 Helecopters were flying over all day on our hike, they transport goods and people down to
the town in the canyon.

Some falls just past the town.

The walls seemed like they were dripping water.

Havasu Falls.

The way down to Mooney Falls is through the hole behind Cam. There were ladders, steps,
chains to hold onto and tunnels through the rock.

There were some places where you could see the falls on the way down. We posed for a
picture here. Steve, Cam, Chris and me.

Chris coming down the steps.

You can see more people heading down the "trail" to the bottom of the falls.

Steve was headed out to check out the rope swing. Looks like it would be fun, if it were
just a little warmer.

Back up.

The river along the trail.

Our campsite right next to the river!

Havasu Falls again.

This time we all went for a swim,it was too pretty to resist! Here's Chris and Cam.

Havasu Falls from the side, further up the trail.

Navajo Falls.

Chris and I at Navajo Falls.

At the top of Havasu Falls, looking down.

Back up the canyon and home.