Otter Falls (May 27, 2008)


For our second anniversary, Chris and I wanted to go on a hike. I originally thought
the Mt. Rainier area would be nice, until I learned many of the roads were still
snowed in. So, we opted to try the same hike we tried with our parents in April,
assuming it wouldn't still be snowed in since it's at a lower elevation, and we'd been
hiking in the area since then and had no problems at that elevation. So, we were off.
We were able to get to the trailhead with no problem this time. The trial was in need
of maintenence though. There were MANY downed trees laying across the trial, and
there was a lot of snow on the trial too. The waterfalls said to be along the trial
weren't real obvious, but we found them since we knew where to look. After some
bushwhacking to Otter Falls, it was well worth the trip. It was amazing! We only
saw two other people on the 12 miles round trip too. We ended up taking a lot of
pictures and had to contain ourselves (mostly Chris) so we could get to the falls that day.




This is the river right near the trail head.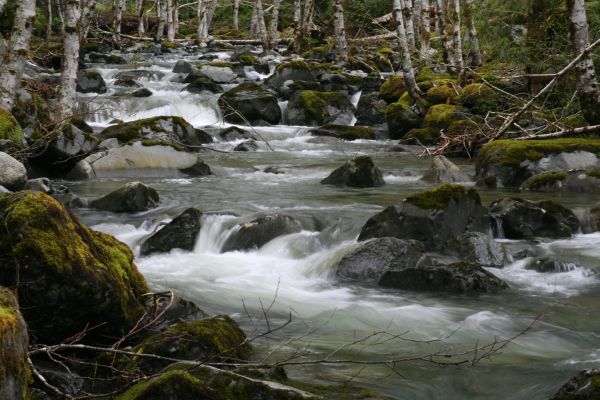 Further down the trail, we had to cross a river and stay in the trees because the trial
had become a river. But we saw this great waterfall, that I assume isn't there on
a normal snow-year.

This is where the first falls, Marten Creek Falls, is located, upstream from this nice bridge.

Marten Creek Falls.

Otter Falls.

There were many trillium plants along our hike.

Chris hiking along the trial. The trail is actually an old road, so it's wide, but
the downed trees still got in the way.

Here's a spot with lots of downed trees. It made for slow walking.

Another tree in the trail.

Chris did manage to find a new pet though!

Chris and I on the bridge on the way back.

Cool bridge.

Marten Creek Falls again. We thought we may get some better pictures now that the sun
wasn't shining directly on it.

There was another trailhead near the end of the road. We stopped there on the way back
in the car. There was a really cool bridge built over the wide river there. Chris and
I just missed a pretty sunset...

It's getting dark.

View from the bridge, looking south.

This is the bridge from the other side of the river.