Robin Lakes (August 30-31, 2008)


Kirsten and Steve planned a backpacking trip and invited us along. We headed to
Robin Lakes for one night. The second half of the hike was steep, and it made me realize
I am a bit out of shape! The end of August brought us more cold than we expected,
it snowed on us! It made for some nice pictures though.




This is one of the first lakes along our trail, Hyas Lakes.

This is after we hiked up the trail a ways, now we're looking down onto Hyas Lake.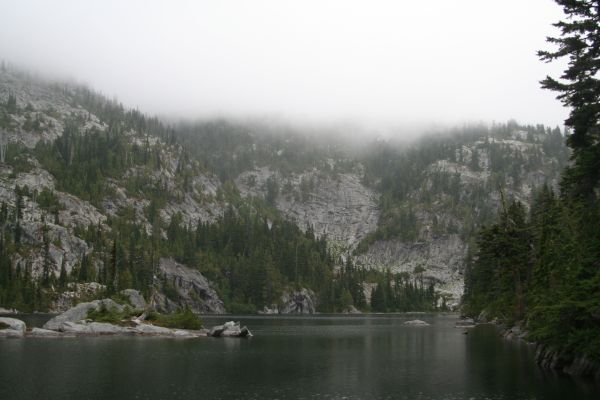 This is one of the Tuck Lakes. Once we got up the steep part of the hike, these
lakes were in front of us.

We were going to continue going up to Robin Lakes, another 1000 ft. But, it started
snowing on us and as we looked toward the lakes, there was a large cloud covering it.
So, to stay warmer and be able to see, we decided to stay at Tuck Lakes instead.
Here Kirsten and Steve are hiking back down to find a good camping spot.

The next morning, we hiked up to Robin Lakes and the small, Granite Mountain, we were
planning to climb that day. It snowed on us again. This is looking back down at Tuck Lakes.

Kirsten hiking in the cloud.

Chris was enjoying himself.

Looks like some flowers got the same rude awakening we did, this late summer day.

Here are Chris, Kirsten and Steve posing with Robin Lakes below.

Making our way between the lakes to the mountain.

This is one of the Robin Lakes. We came from the right side of the picture, this is looking back.

Is that blue sky?! This is the same lake, but we're now a little higher.

A lone tree flocked with snow.

It looks like it was windy and snowy. Reminded Chris and I of the back side of
Mammoth Mountain!

A Cairn all frosty, or a Duck as I like to call them...

Chris with the larger of the Robin Lakes behind him.

Steve treading across the snow saddle toward the summit.

Us at the summit. Chris, me, Kirsten and Steve.

Another photo from the summit. Not much of a view when you're in a cloud.

Kirsten and Steve heading back over the snow saddle.

Chris pointed out these strange rocks. It looked like a conglomerate in the granite.
I hadn't seen that before.

More of the same. Weird!

A lone Cairn.

Going back down to Robin Lakes.

Tuck Lakes had a rainbow!

This is from our campsite. It was getting brighter.