Kitchen Demolition
_______________________________________________
July 1, 2008



| | | |
| --- | --- | --- |
| | With our new appliances, cabinets, and tiles all sitting around ready to be installed, it was finally time to do some demolition in the kitchen. We tore out the old cabinets and kept them to put in the shop for storage and a work bench. There were also 3 layers of old lenolium, 1 layer of particle board, and a layer of pine tongue and groove flooring to remove. | |

The kitchen from the family room before we started tearing out cabinets.




From the utility room.




Another before picture.




Making progress taking out cabinets.




We moved the big part of the kitchen cabinets and counter
into the shop to use as a work bench. We'll be putting the
other cabinets in there too.




All the cabinets are out now.




We found another trap door into the crawl space after removing the lenolium and particle board on the floor.




What appeared to be the original pine flooring in the kitchen had black tar paper glued down and couldn't be saved. So we had to tear that out too, which will help get the new tile down to the same level as the hardwood in the rest of the house.




We may not have a kitchen any more, but we still need to eat. Good thing we have a 220V outlet outside to plug in the range.




The wall between the kitchen and bathroom had been drywalled at
some point. There had obviously been some water leaks. So we
tore off the drywall, and had to replace some of the studs and subfloor.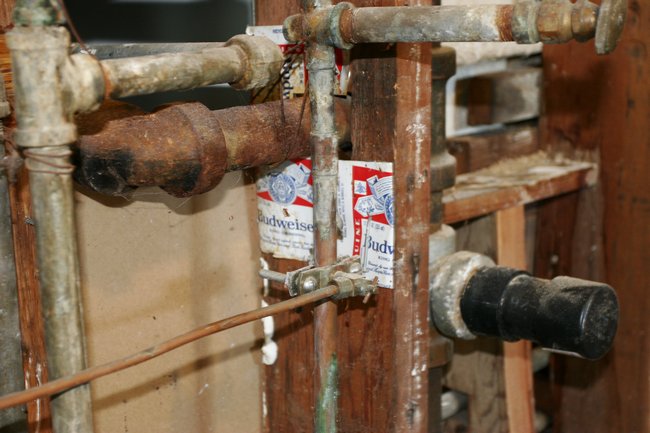 We also found a new use for Budwieser cans. Apparently someone thoguht they make a good way of covering up a hole.




This is the bottom of one of the original galvanized steel vent pipes in the drainage system. Its rusted through and is clearly the cause of all the water damage below this area.




The family room is getting cluttered again with all the new appliances, fixtures, and plumbing fittings.